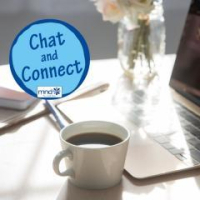 All our welcome to join our online support group – Chat and Connect. This group is open to everyone across NSW and the ACT, especially those living regionally or remote.
These groups are a chance to chat and learn from each other and to be supported by others who are sharing some similar experiences.
You are welcome to join this online group as well as attending your local geographical support group if there is one available in your area.


Wednesday July 27
10am to 11.30am
This group will be an informal catch up with a cuppa from the safety of your own home and will be facilitated by MND Advisor Kath. If you have any questions or would like to join the group, please RSVP to:
Kath Teesson
Mob. 0426 259 632
This email address is being protected from spambots. You need JavaScript enabled to view it.
or This email address is being protected from spambots. You need JavaScript enabled to view it.