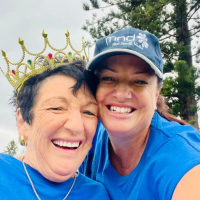 Our Walk to d'Feet MND Illawarra event will be held on Sunday 7th May 2023 with the walk starting at 10am.
Register now, and you can start fundraising - you'll be helping MND NSW provide equipment, support and more to people living with motor neurone disease.
2023 walk registrations include a Free Walk to d'Feet t-shirt as well as a regsitration slapband that you need to wear to the event. You can choose to have this posted to you (for a fee) or pick up from the event.
Registrations pricing is: Adults $30, Kids $15, People with MND free of charge, dogs $6 (includes a free dog bandana)
Walk start time: 10am
The Walk will be held at Trinity Row, just behind the Bulli Surf Club.
T-shirt pick up will open at 9:30am, and will be subject to COVID-safe practices.
Merchandise will be available for sale from 9:30am.
If you require disabled parking please email us at This email address is being protected from spambots. You need JavaScript enabled to view it.
Register today at Walk to d'Feet MND