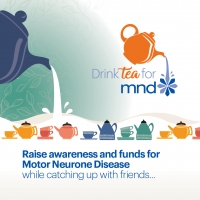 Support people living with motor neurone disease and have fun with friends by hosting a Drink Tea for MND (DT4MND) event!
DT4MND events can be held anytime, anywhere but this year we have nominated Tuesday, August 24 as national DT4MND Day and we encourage you to host your event on this day.
So crack out the cakes and tea and get everybody can be involved - any DT4MND event (big or small) can help raise awareness of MND.
If you'd like to host a DT4MND event or would like more information, please contact us at This email address is being protected from spambots. You need JavaScript enabled to view it.
To make a donation of funds collected from your DT4MND event, please click here.
If you'd like merchandise to sell at, or have for your event, please head along to our online store here, or contact us at This email address is being protected from spambots. You need JavaScript enabled to view it.
To deck out your event with fabulous decorations or get ideas, take a look here.
Need recipe ideas? We've got a few you can try right here.
Promoting your event? Find social media resources here.