The Mobility Parking Scheme provides special parking conditions and concessions to eligible people with a disability.
All Australian states and territories participate in the Australian Disability Parking Scheme, so you can use a valid and current permit Australia-wide.
Parking permits are issued with 3 to 5 years validity depending on which state you live in and whether your disability is deemed permanent by the doctor certifying your form.
Once approved, you will be issued a licence-style card that includes the cardholder's photograph and additional security features. When you apply for a Mobility Parking Scheme (MPS) permit, you'll also be issued an Australian Disability Parking Permit, there is no additional charge for this.
You need to insert your NSW/ACT permit card (licence-style card) into the Australian Disability Parking Permit (large purple card) and both must be displayed when parking.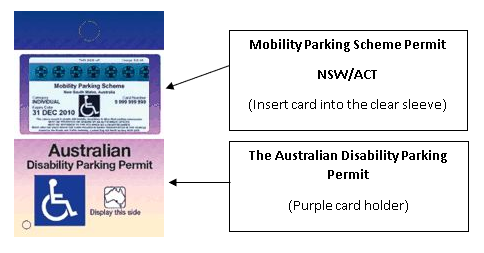 Mobility parking permits are only valid for use by the person to whom they are issued for the vehicle they are travelling in. If the permit holder is not travelling in the vehicle, it is an offence for any other person to display and use the permit.


Parking concessions
The parking concessions apply when the mobility parking permit is displayed in the vehicle that is being used to transport the individual to whom the card is issued. Parking concessions under the Mobility Parking Scheme are only offered at on-street and council-operated car parks. If you park in metered, coupon or ticket parking areas operated by councils, no charge applies. Car parks that operate behind boom gates are privately operated and no concessions will apply in these areas.
The MPS card also entitles a person with a disability to park in spaces marked with a symbol for people with disabilities. Parking concessions within council-operated spaces and streets include:
− When parking in metered, coupon or ticket parking areas, no charge is applied.
− Where parking is limited by a sign to over 30 minutes, the vehicle can park for an unlimited time.
− Where parking is limited by a sign to a maximum of 30 minutes, the vehicle can park for 2 hours.
− Where parking is limited by a sign to anything less than 30 minutes, the vehicle can park for a maximum of 30 minutes.
− At a 'No Parking' sign you may park for up to 5 minutes, the driver must remain within the vehicle or within 3 metres of the vehicle to drop off or pick up passengers or goods.
− MPS cards do not allow vehicles to stand or be parked between 'No Stopping' signs or on taxi stands or bus, loading, construction or truck zones or clearways.


Applying for a permit
Complete the Mobility Parking Scheme application form NSW, ACT or NT or ask your MND Advisor for a printed copy. You can also get a copy of this form from any government service centre.
You will need a photograph for your permit, and you have the option of using an existing valid photo stored in the Roads and Maritime system or a new photograph can be taken at a service centre. In NSW, if TfNSW has your photo on file, you can now apply for, replace, or renew a 5-year MPS permit online.
How to apply online (NSW)
To apply online you will need:
New applications (and renewals) require the applicant to complete Section 1, before asking their doctor or specialist to complete Section 2 (and also Section 3 if you are still driving). Your doctor will confirm if you have a disability that meets the eligibility criteria to access the scheme.
If payment is required from you, Service NSW will contact you when your application is being reviewed. Payment in person or over the phone will be accepted (unless you qualify for a concession or free permit such as eligible pensioners).
If you don't wish to apply online, or you need to have a photo taken or have a photo exemption, you can visit a service centre. You'll need to bring your proof of identity documents and your medical documents. Please call 13 77 88 if you'd like assistance.
If you are still driving
In NSW the medical information provided in your application will be used for the mobility parking permit and, where appropriate, for the Driver Licensing Scheme. Roads and Maritime has a responsibility to ensure that all NSW licence holders are medically fit to drive.
If you hold a current driving licence and have not already notified Roads and Maritime of your MND diagnosis, then you will also need your doctor to complete Section 3 (Medical Report). You can also ask your doctor if you need a medical assessment for fitness to drive.
Further information
Any further questions can be directed to: