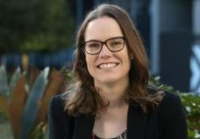 Genetic Counselling & testing for MND and FTD – Online Webinar
When: Wednesday September 28th
Time: 6pm - 7pm
Where: Online via Microsoft Teams
This online webinar is being provided by Ashley Crook and is a summary of her findings from her thesis. Ashley is a certified genetic counsellor and PhD candidate. Her PhD thesis is currently under examination at the University of Technology Sydney graduate school of health.
Ashley works at the Macquarie University centre for MND research and at Austin Health. Ashley was the recipient of the Graham Lang Memorial MND Research Grant in 2017 by MNDRA for a project reviewing MND genetic counselling and testing barriers, facilitators, costs and benefits. This grant lay the groundwork for her PhD project using a mixed-methods approach to developing genetic counselling standards of practice for MND and FTD (frontotemporal dementia) genetic testing.
Ashley will also explain the basics of genetic counselling and genetic testing and is happy to answer any questions that attendees may have.
Register to attend here: MND NSW - register webinar