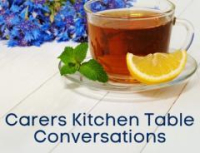 Kitchen Table Conversations run monthly and are informal opportunities to share and connect.
From time to time, we will invite an expert to come along and join us and chat about things like meal preparation, supportive equipment, support services and more. We will be guided by what our carers want to know more about.


The next Kitchen Table will be Thursday 30th September at 10:30am and 7pm. Both sessions will be held online.
Registrations are a must, so we can send you the one click link that will let you join in the conversation.
For more information or to book your place in either session contact:
Natalie Caruana at This email address is being protected from spambots. You need JavaScript enabled to view it. or call 1800 777 175.