In the past, it was thought that motor neurone disease (MND) only affected the nerve cells (neurones) controlling the muscles that enable us to move, speak, breathe and swallow. However, it is now known that up to 50% of people with MND can experience changes in cognition, language, behaviour and personality.
When cognitive and behaviour changes occur in MND, it is because there have been changes in specific areas of the brain called the frontal and temporal lobes.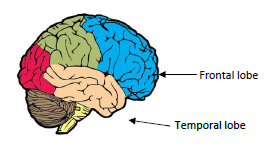 Most people experience relatively mild changes. However, a small proportion (5-15%) will show more significant changes and will receive a diagnosis of 'motor neurone disease with frontotemporal dementia' or MND/FTD.
Often the symptoms of dementia precede the motor symptoms, sometimes by a number of years.
Find out further information on the MND Connect website here: Cognition, thinking & behaviour | MND Australia
For information specific to frontotemporal dementia (FTD), visit Dementia Australia here: Frontotemporal dementia | Dementia Australia