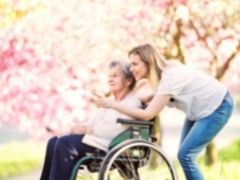 To mark 40 years of MND New South Wales this year, we are highlighting 40 years of stories from our members, staff, volunteers and experts.
You can help MND NSW continue supporting people with motor neurone disease by making a donation here.
Margaret's Story
Margaret has been volunteering with MND NSW for just over 18 years.
In September of 2002, her husband was diagnosed with MND. At first she thought she would have at least a few more years with him but his illness progressed quickly.